New Mobile Crane for Sale Terex Demag AC100
Mobile Crane Terex Demag AC100 For Sale
Year 2008
Cap. 100 ton
Mercedes engines upper and carrier
Telma retarder
5 axles
Tyres 1600R 25
Mileages 71.912 km
Carrier 4.984 h
Superstructure 11.395 h
32T counterweights
Main boom 50 m
Swing away jib 17,6 m
Drive 10x6x8
4 hydrolic outriggers
3 hookblocks
1 winch
Airconditioning in both cabins
Heater in both cabins
SLI Demag
Crane is in good working condition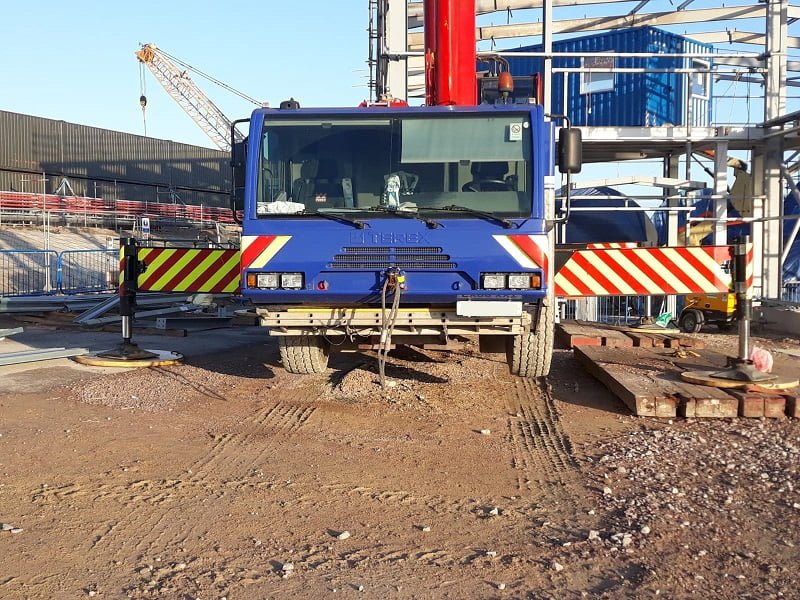 Mobile Crane Terex Demag AC100
The versatile Mobile Crane Terex Demag all terrain cranes come with superior design, technology and engineering. A study in exceptional performance and maneuverability, Demag all terrain cranes can go just about anywhere on the planet, ready to help you tackle the most demanding jobs quickly, safely, efficiently. They come in a variety of boom lengths, and feature intelligent, ergonomic cab design for exceptional driver comfort and support. Demag all terrain cranes offer the perfect blend of flexibility & productivity and deliver a high return on investment.
Service Grue Maroc
DEMAG WORKS 24/7 SO YOU CAN TOO
You work hard to meet your customers' expectations, and we work hard to meet yours. We're committed to your business success and know that when your cranes work, jobs get done and you make money. You can call our free support line anytime day or night, 24/7.
And we can even come to you, to get your crane back to work.
DEMAG History
Our promise to you
Demag has a rich history of striving to make your lifting jobs easy, safe and efficient. But it's not only in our past, it's also in our DNA and it's in the way we look to the future.
1827
Christian Dingler founds a mechanical workshop in Zweibrücken.
The letterpress toggle press, which has come to be known as the Dingler Press.
1834
The « Schönhof » farm is purchased and the Dingler machine factory is established.
1842
An iron and metal foundry is constructed. Production of railway freight cars begins.
Construction of the 1st steam engine plant.
1848
A forge with welding furnace is constructed. Manufacturing of water wheels and turbines begins.
1870
The first blast furnace goes into operation.
1890
Production of lifting devices for local coal mines and steelworks begins.
1897
Dingler'schen Maschinenfabrik A.G. is incorporated.
1906
A railway crane with a load capacity of 10 t is introduced.
1916
A large steelwork is constructed.
1927
By 1927, over 3,300 steam engines had been built with a total combined capacity of approx. 260,000 HP.
100th Anniversary of Dingler. The company now has over 1200 employees.
1950
The V 2500 telescopic mobile crane with a load capacity of 2.5 t is introduced.
1976
Largest telescopic crane on the market with a lifting capacity of 160 t.
1979
Development of the world's strongest lattice boom truck crane with a lifting capacity of 800 t.
1987
Development of the largest lattice boom crawler crane with a 1,000 t capacity.
1990
Introduction of the strongest telescopic truck crane worldwide with a lifting capacity of 500 t.
1993
Introduction of a 50 t all terrain crane family.
2002
Introduction of the CC 8800 crawler crane with a capacity of 1,250 t.
2003
Introduction of the AC 200 all terrain crane with 68 m of main boom.
2007
Introduction of the most powerful crawler crane, the CC 8800 TWIN with a lifting capacity of 3,200 t.
2014
Introduction of the Boom Booster Kit for the CC 8800 crawler crane which increases the crane's capacity by up to 90%.
2016
The Demag brand is relaunched.
2019
Tadano acquires Demag Mobile Cranes